Large Groups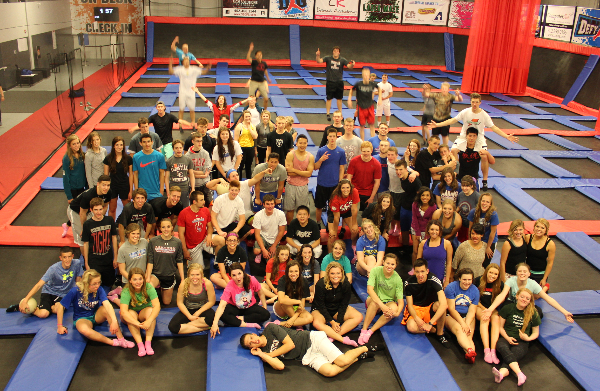 FOR ANY AGE GROUP & FOR ANY GROUP SIZE!
Looking for a FUN, UNIQUE, and MEMORABLE experience for your Group or Organization, we can help you plan and customize your event. Your group events can range anywhere from Open Jump on our enormous trampoline (110′ x 60′) to sports like Dodge ball, Trampoline Aerobics, Laser Maze challenges and much more! We offer something for almost every age, size and shape, regardless of skill level.
Defy Group Special (15 People or more)

*Please call today to set up your next group event.*
*All large groups must book through our Event Coordinator. LincolnEvents@DefyGravityUSA.com or 402.817.6900 ext 2
*In order to qualify, groups must pay in ONE transaction*
*A Non-Refundable $100 Deposit is required to reserve jump time*
*All refunds will be returned to you on a Defy Gravity Gift Card*
We host a wide variety of Groups, Organizations, Charities, & Events, including:
School Groups

Preschools

Daycares

Summer Camps

Corporate Events

Church Groups

College Organizations

Fraternities & Sororities

Home Schooled Groups

Youth Groups

Lock-Ins

Post-proms
To receive group pricing all events need to be booked through our event coordinator. For more information email at LincolnEvents@defygravityusa.com or call 402.817.6900 Ext. 2 and we will get in touch with you within 72 hours and help you create a very unique, and unforgettable event!